In this area chimney repair has become big business with roofers, plumbers, electricians and even auto repair companies – all trying to 'get in on the action'. Well that's ok but there is something you should realize as a homeowner about a 'chimney repair contractor' who does not have the experience to know what to do… he can cost you BIG MONEY.  Let me explain why.
Case in point.
Look at the picture to the right of a recent job that we did for a homeowner. Look closely now at the very top 2′ of the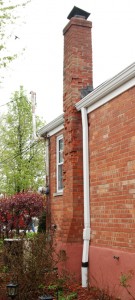 chimney… do you see it? Yes that's right – this chimney was already rebuilt several years ago by an 'experienced chimney repair contractor'… yeah right.
We did bid on the job but we lost it and you know why?
We told the customer they needed more taken down than what was 'obvious' which made our price higher than the other contractors because… we were doing more work! That's easy to understand but the other contractor convinced them that we were 'padding' the price – what a joke and how unprofessional!
Well as you can see from the picture the contractor that did the 'original' rebuild was obviously wrong and guess what? They are no longer around, that's right, they are 'out of business'. It's no wonder.
I have clients ask me daily "You are taking the chimney down further than the other contractor is and he says we don't need to… that you're just trying to sell the job for more money?" Well look at the picture folks. If you don't get down to solid masonry you will have to do the rebuild again.
The last I checked, rebuilding a chimney a second time cost almost 3 times more than rebuilding a chimney once… the right way.
You will always get what you pay for my friend so if you truly want to get a 'proper chimney repair' then deal with reputable contractors. If you're just shopping price then call someone willing and able to do a 'cheap repair' for you. Look around you can find one but it isn't Handy Home Pro.
The point being is this: if you don't get all the damage on your initial rebuild then the damage WILL CONTINUE BELOW YOUR NEW CHIMNEY REPAIR AND YOU WILL HAVE TO REBUILT IT AGAIN!
So don't be penny wise and pound foolish when it comes to your chimney repair or rebuilding especially here in Cincinnati. You must have an experienced eye to look at the situation to determine just how far down the rebuild needs to come if you want to make sure you don't have to do it again.