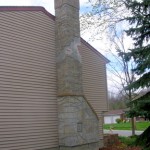 If you need a chimney rebuild you may consider a decorative stucco overlay.  A chimney rebuild today can be a big problem; new bricks don't match your homes older bricks and if they do… they are smaller than the old bricks making the mortar joints between the bricks larger than the joints between the regular brick manufactured years ago.
You should consider having  a decorative stucco overlay applied instead of paying for a chimney rebuild. This is a cost savings application that can beautify your home save you a buck or two on a complete chimney rebuild of the exterior stack on your home.  Decorative stucco overlay is a vertical cement application that is applied over the existing bricks. The base coating of the application is specially designed to close off all pores in the brick masonry and to solidify broken bricks. In addition it helps to waterproof the masonry shell something a brick chimney rebuild can't do.
Once the waterproof coating is installed then the texture coating is applied over it deep enough to allow for a stone texture application. It can make your chimney look like it is constructed from gorgeous and expensive field stone. It is then colored to resemble field stone and finally sealed to protect the new installation.  For all intents and purposed you look like you have a new chimney! Just a little sealer needs to be applied every three years to keep the decorative stucco overlay in good condition.
It is something to consider if you are going to the expense of chimney rebuild. In my opinion a properly installed decorative stucco overlay that is maintained will outlast a chimney rebuild with bricks.  For more information… Contact Us

In addition it comes with a full 10 yr. warranty!
Double click the first picture in the gallery to receive more detailed info.