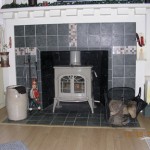 How many of you have an old fireplace or are installing a new one and would like something a little different? A decorative stucco overlay for your existing or new fireplace can be the answer to your problems! Most old fireplaces throughout the country are in need of some cosmetic attention. Even if the darn thing doesn't work you can still update your current fireplace facing and mantel to match your interior decor or turn it into just about any type of design you desire!
Really with the new decorative stucco overlay material available on the market today you can design a fireplace to look just like what you saw in a recent issue of Architectural Digest or how about a country bungalow charmer or maybe something with a desert feel and an adobe  flair? The list is endless.
The great thing about decorative stucco overlay is you have the ability to take key elements from any design you find on the new and incorporate them into a design of your liking.  This isn't a product though that you pick up from one of the box stores and have it running 3 hours later. Like a well planned house this will take a little design time but if you are willing to wait the results can be spectacular!
This little cabin fireplace we did helped this homeowner loose the out of date green tile she had on her fireplace face.  Luckily this fireplace also had everything else in place, the mantle, the trim, etc. so all we had to do was apply our decorative stucco overlay to the surface tile and sculpt the finish she was after; a rustic Craftsman style finish. Take a look through the gallery but to see how we did it! Remember though,  anything is possible.  Estimated project cost – $1200 – $1500. Contact us

Double click the first picture in the gallery to receive more detailed info.