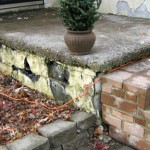 Many old concrete porches could be updated with an application of concrete resurfacing.  There are many porches out there in dire need of repair or replacement. If you have an old deteriorating porch you have two options; repair and apply a concrete resurfacing finish or replace it.
If you are lucky and your porch is in sound structural condition, such as the one in the photograph and are willing to risk the ability of the new material to bond well to your old concrete then you may consider having your porch repaired and resurfaced for about 1/2 the price of replacement. Of course each porch will have its' own set of circumstances and prices can vary widely depending on how much work has to be done.
Each individual porch is different and may require differing techniques to help preserve their surfaces but for an nice decorative finish and virtually trouble free maintenance then a concrete resurface application should not be ruled  out.  From a simple troweled on grey top coating to a highly decorative and appealing flagstone appearance with mortar joints and color concrete resurfacing has a broad range of applications.
Yes for about 1/2 the cost of replacement you can have a beautiful new concrete overlay system installed, textured and colored to look like a gorgeous and expensive flagstone! Something to consider when you are wondering what your options are for that old porch.  Lucky for this customer their porch was structurally sound though the foundation did need some repair before the concrete resurfacing could be done. Look at the pictures  below for more details about this exciting and versatile product. This porch repair and resurfacing estimated cost was $1950 – $2650.  Contact Us

Double click the first picture in the gallery to receive more detailed info.