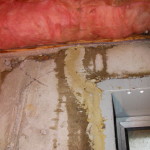 Some basement water problems are caused by leaking brick walls. Water coming in to the basement from over the top of the foundation can be from improperly installed or damaged thru-the-wall brick flashing and of course a leaking brick wall.
Brick walls leak by nature. It is the thru-the-wall flashing that catches the water coming through the brick and diverts it out the weep holes at the bottom of the brick wall. Many contractors will want to sell you an underground foundation waterproofing service when the real problem is leaking brick and above ground!
You see the water leaking into your basement is coming through the brick exterior of your home. Part of the original foundation waterproofing is installed behind the bricks and is called thru-the-wall brick flashing. This brick flashing is sometimes not installed properly and the only way to fix it, is to replace remove the lower rows of brick and replace it.
Cincinnati has lot's of leaking brick water issues and only this type of thru-the-wall flashing repair can keep the brick from leaking into the basement. This repair if done properly, will help to stop rot, mold and termites that cause untold $10,000's in damage to homes yearly. It is the surest way to protect your home or building from further leaking brick damage.
The cause of these basement leaks can usually be found with poorly installed brick flashing. It is unfortunate but builders have been negligent. To keep bricks from leaking they should have a properly installed foundation waterproofing and brick flashing protection system. The only way to fix this leaking brick problem is to remove portions of the brick veneer on the perimeter of the building and installing new flashing beneath the brick. This will drain the water away from the top of the foundation to the outside of the home and away from the interior. If leaking bricks  are causing water problems in your  basement then you may be in need of a brick flashing repair on your home.  For more info  Contact Us
Double click the first picture in the gallery to receive more thru-the-wall flashing detailed info.