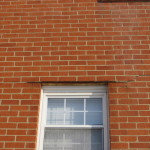 Window lintel replacement request are growing because building and homes are getting older and need ongoing maintenance to keep the building in shape. The key to window lintel replacement is to minimize the amount of damage that is done to the masonry during the process of removing the damaged steel. This can be a tricky proposition because the lintels can be difficult to access.
I've seen some situations in which other contractors have remove up to 10 rows of bricks above a window or door opening and did a window lintel replacement without blending in the final mortar color to get as close of a match as possible… and it looked like it!
The big problem we face with window lintel replacement is finding suitable bricks to match the color and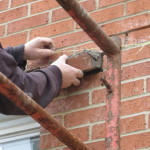 texture of the existing masonry so that you're window lintel replacement will be as seamless as possible. Some of the buildings in the area are getting pretty old so locating a brick that will come close in a window lintel replacement can be a challenging thing. We also make sure that the lintel used to replace the damaged lintel is properly primed to offer additional protection to the new steel.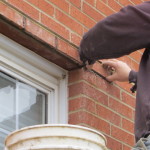 The reason window lintel replacement is needed is that moisture will infiltrate into the masonry wall system and  collects on the surface of the steel and of course over time the steel lintel will corrode. This corrosion of the lintel creates  expansion in the steel and lifts the adjoining bricks. This causes to cracks to appear in the brick and mortar at the window or door top corners. Window lintel replacement is the only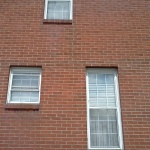 solution once a lintel has reached this level of deterioration. Contact us for more information and pricing on how to deal with the issue of window lintel replacement.