A web site reader sent me an email with photos he took of a Cincinnati brick repair he had contracted to have done by a 'stone mason'.   I am amazed by how quickly a homeowner will choose any Cincinnati brick repair contractor based solely on his price, without knowing whether he can provide them a sound repair.
"He was the cheapest." is a common comment.
"Ok … is this contractor performing the same work that we proposed? Did you read his proposal?"
"Well he said he could take care of it."
Sure.
As you can see from the pictures this homeowner sent over, this Cincinnati brick repair contractor gave him what he paid for. The homeowner then wanted us to 'condemn'  this contractors brick repair installation because it didn't meet this owners expectations.  You and I both know that there is a time and place for 'less expensive' work.
Some folks just cannot afford a quality Cincinnati brick repair. They HAVE TO take their chances with the cheapest price. They DON'T HAVE THE MONEY… I GET THAT!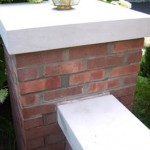 The brick repair in the photos sent by this Cincinnati homeowner is not  what I would consider top notch work for a good Cincinnati brick repair company and judging from the limestone caps on this Cincinnati brick repair I suspect the homeowner could have afforded to pay a reputable contractor… but he chose not to.
Remember folks you DO get what you pay for. There are no silver linings out there. This homeowner will likely have to pay 3X – 5X the money he paid originally to get the project done the right way.
Be careful out there… check out any Cincinnati brick repair company you are considering hiring.  Usually a company that tries to 'do everything' usually fail miserably. If you are their customer you may be the one… holding the bag.  Contact Us