Sometimes when I look at a masonry repair request from Cincinnati customer, I find the damage so severe that a rebuild would be the best approach. However if a customer prefers to 'patch in' a few damaged brick we can handle that as well. Though we always recommend a rebuild where warranted in Cincinnati and alternative is a masonry repair application in brick replacement.
Sometimes in the process of removing damaged masonry we may be able to save a few bricks to 'patch in' an additional masonry repair area such as this wing wall demolition.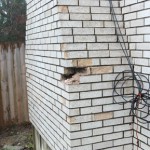 This customer wanted this wing wall removed. She wanted to save some of the bricks from the demolition (if possible which it was) and use them to do a brick replacement masonry repair where the wing wall attached to the house.She also wanted to  replace approx. 50 bricks on the lower portion of the chimney where the bricks were spalling.
So we took the wall down and cut out the necessary bricks from the chimney shell. We were particularly careful with the bricks on the front of the home since this was the main wall of the home and wanted this portion of the masonry repair to look seamless.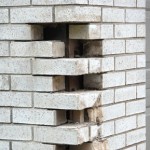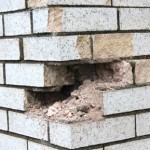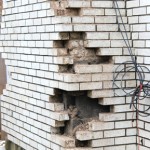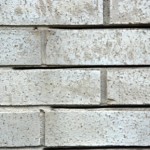 Once the bricks had been removed and they were installed back into the opening pockets using fresh pointing mortar.
As you can tell from the pictures there is a difference in the colors of the brick salvaged and used to fill in the holes. In addition you will always get fresh mortar stains on any masonry repair installation and if the customer prefers to have a seamless finish then we stain blend the final brick work to match.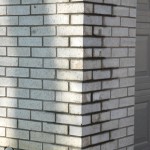 Here the chimney was not 'stain blended' but the repair to the front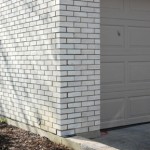 wall was. You can see how the repair blends right in with the existing work.
After a few years of atmospheric soot deposited on the brick surface of the repair, you'll n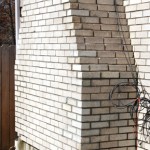 ever be able to tell that Handy Home Pro of Cincinnati was there. Contact us here.