A foundation crack that is widening can be repaired with steel pins. If you have a crack intersecting a corner of your foundation we can excavate, drill and pin the crack to prevent further spreading which can cause additional damage to your wall system.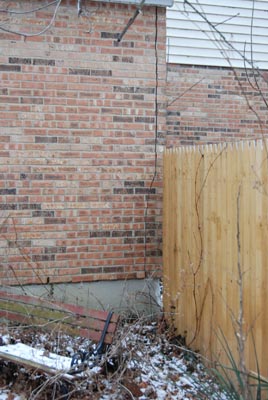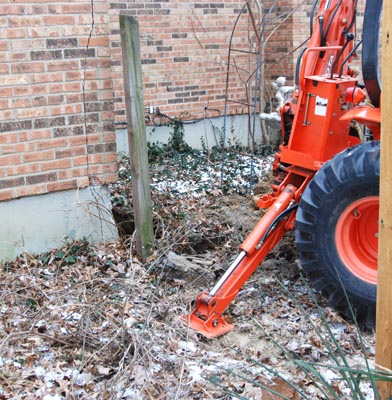 Look at the large crack in the brickwork by the fence. It extends through the foundation and continues below grade to the footings.
It is usually necessary to excavate down to the footings in order to expose the crack in the concrete foundation wall. Once exposed the crack can be anchored and filled to keep it from spreading wider and causing additional damage.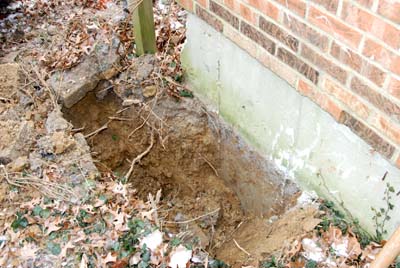 By exposing the crack we are able to get to it easily to remove debris from inside of the crack. We can then drill pilot holes for the spreader anchors used to restrain further wall movement. We also fill the crack with a special joint compound to keep insects,rodents and snakes from gaining entry into the home.
Can you see how far this crack opened up on this foundation wall?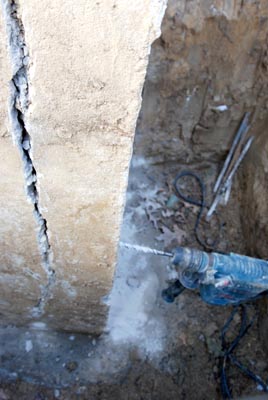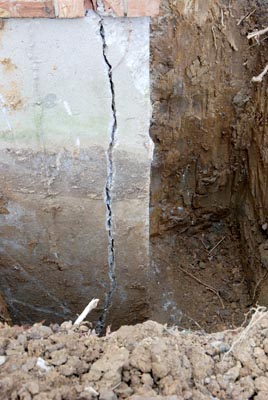 If the footings continue to settle there is a good chance this crack may open again. At this point your only option would be the installation of helical anchors beneath the footings to support the footings of the building.
By placing steel pins into the wall and through the crack into the abutting wall, we can stop the wall movement.
Do you see how the steel is skewed above and below the level line? These pins are driven into the pilot holes, through the crack and on into the wall on the other side of the crack. As the wall attempts to move out further, the steel binds with in the concrete preventing the walls from separating more.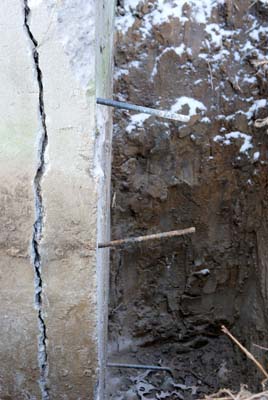 We used the garage slab as an anchor point…
For additional anchoring strength we installed steel pins through the foundation into the garage floor slab. This also provided horizontal reinforcement as well as anchoring pins placed perpendicular to the primary repair area. Just a little added protection.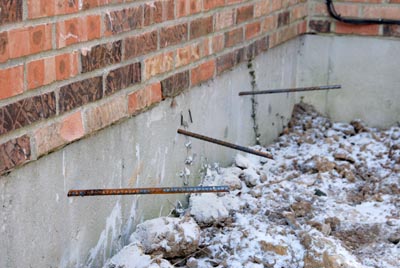 When the pinning work has been completed we tuck point any cracks that may be in the brick work above. This keeps out vermin and water and helps prevent additional deterioration.
After the tuck pointing has been completed we stain the tuck pointing area to match the existing texture and color of the brick and mortar.
This gives you a beautiful finished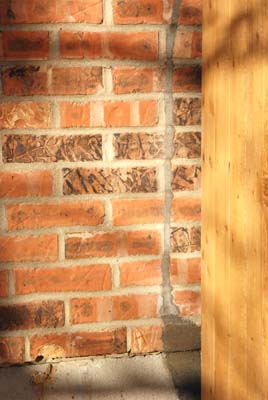 look and a truly seamless repair.