Is it time for that old porch to be turned into a beautiful deck? Many homeowners need to just get rid of what they have… old concrete porches, terraces and decks can be real problems for homeowners, can be expensive to maintain and can become flat out dangerous to use!This old concrete porch on the left is a good example of a product that has out lived it's useful life.  We recommended that the customer not use the porch due to the advanced signs of deterioration in the concrete.

They chose to 'bite the bullet' and install a new deck, which was a wise decision.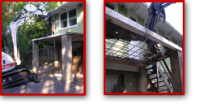 If you have a situation similar to this then we can help you. It may take some work but with a little effort we can improve your outside living areas by removing that old terrace, porch or deck and install a new deck.
You have choices and can install a composite, cedar, or pressure treated deck!
In today's market you have several choices for decking materials; pressure treated (the old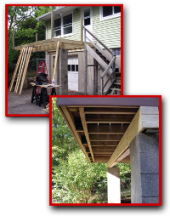 standby) cedar, (traditional decking material) and composite. (new materials designed to be maintenance free).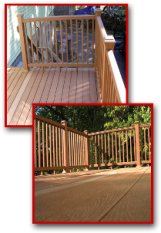 We can discuss with you the benefits and drawbacks of these materials and the associated cost as well. In addition you have a wide choice of design options; multiple levels, wide or circular steps, a variety of balusters and railing or even a deck roof!
Covering your deck will definitely improve the durability of the product due to reduced wear and tear from ultra violet light and rain water. Generally a deck will give you 15-20-25 years of service depending on the material used, the quality of the installation and the maintenance.
Isn't it time you updated your home?
We can provide a budget for you to consider when deciding on which type of deck you may be interested in. This budget will get you close to the final cost but there may additional cost due to changes in the design, unforeseeable construction expenses that can crop up during construction. We will work with you in what ever way is most convenient for you!
If you crave something special for your home let us create, design and construct an exciting deck enviroment!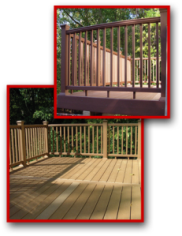 Regardless of the complexity of the building site or the detail of the design we can help to bring your dreams and wishes into reality. If your serious about constructing a deck spend a little time looking at home magazines. Get a good idea of what you would like to build and then set a budget of what you wish to spend.
Then call us! We'll look at your ideas and your budget and help you to select the right materials and design that will give you a beautiful and durable deck, call today.