You have brick cracks in the walls of your home… don't you? You're not sure what caused them or how to fix them. But you do know, that you have cracks in the walls of your home: in your concrete, your brick, in your stone or in your stucco… right?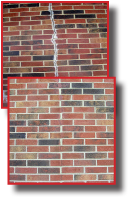 Are they a problem? Maybe..
Cracks release stress. Just like people, houses need to let off steam sometimes too! Seriously though, brick cracks do appear in the strangest of places but with a little care and attention to detail, you can get rid of those ugly brick cracks and make them DISAPPEAR, like magic!
Most brick cracks appear because of settlement.
Others from thermal and seasonal movement… Almost every home has a settlement crack and our repairs can make them look like new! Many customers use our brick crack repair service as a monitor.
If the brick cracks open again, then they know that they need to consult an engineer but if they don't, then they saved the engineers cost and got their cracks repaired as well!
You must use the right tools selectively…
I cringe sometimes as I watch other companies beat on a customers walls with their sledge hammers!  They must not realize the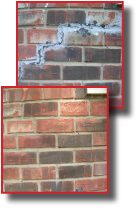 additional fracture damage they are causing to the wall system by their recklessness!
With our special tools and techniques we carefully manipulate the brick crack area to remove loose material or unsightly compounds. Power tools are used only in extreme, difficult cases (like you see above) and where the damage is severe. Even then, we are careful to remove only what is necessary to safely install our sculpting mortar and stains.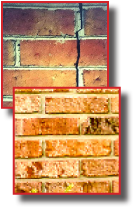 We can make those ugly brick cracks DISAPPEAR… like magic!
There really no secret to what we do… just patience. We want your bricks, stone, stucco or mortar to blend naturally and beautifully.
Sure it takes experience and determination but more than that, it takes a desire to please our customers. We love to hear it when they say "Wow! I can't even see where the damage was!". We know we did a good job!
Contact Handy Home Pro for all of your brick crack repair needs and know that you'll be pleasantly pleased with the care and beauty we give your home!
Contact us here
.